Regional Presence / Coverage
Our ability to close the cultural, linguistic, logistic and informational gap between capital markets and clients as well as between developed and emerging markets is a key advantage that distinguishes KBR Group from the competition.
As opposed to many middle sized institutions, KBR Group has deployed its network through its own offices led by KBR's partners or dedicated employees, with decades of experience, contacts and knowledge of these markets. This ensures the unity of the network and guarantees a firm commitment of the entire KBR Team in the advisory of cross border transactions.
KBR Argentina S.A.
Hipólito Yrigoyen 571, Piso 7 Vicente López (B1638), BA Argentina
KBR Corporate Finance GmbH
Bockenheimer Landstr. 51-53, 60325 Frankfurt Germany
KBR Corporate Finance GMBH
C/Marqués de Cubas nº 25 3º dcha. 28014 Madrid Spain
KBR Corporate Finance GMBH, Bolivia Office
C/ Enrique Finot 277 Edif. Macororo 7, of. 3e Barrio Equipetrol Santa Cruz, Bolivia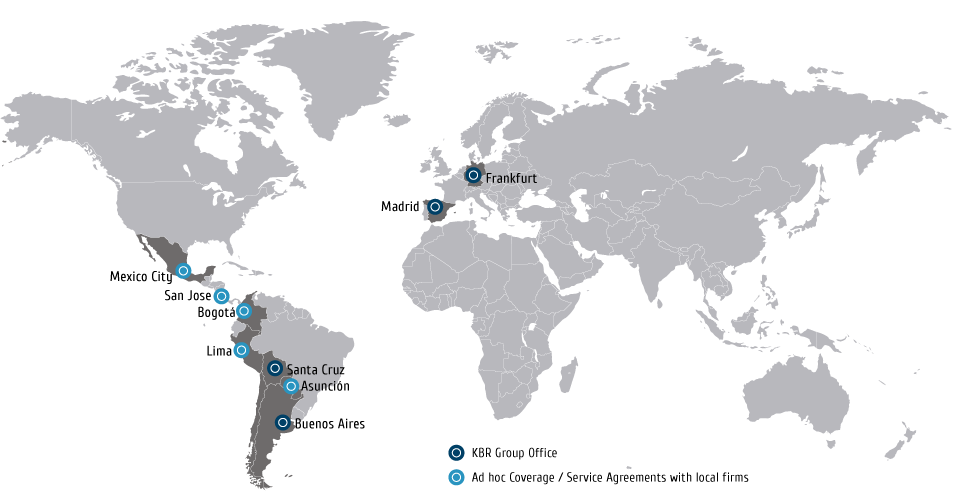 KBR Argentina S.A.
Hipólito Yrigoyen 571, Piso 7 Vicente López (B1638), BA Argentina
KBR Corporate Finance GmbH
Bockenheimer Landstr. 51-53, 60325 Frankfurt Germany
KBR Corporate Finance GMBH
C/Marqués de Cubas nº 25 3º dcha. 28014 Madrid Spain
KBR Corporate Finance GmbH, Bolivia Office
C/ Enrique Finot 277. Edif. Macororo 7, of. 3e. Barrio Equipetrol Santa Cruz – Bolivia